Laser 3.14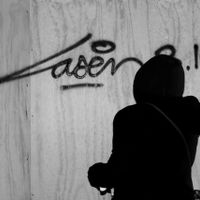 Laser 3.14 is a 'Visual Poet' who has been creating poetry on the streets for over 15 years. His distinctive work of visual poetry can be found around Amsterdam, some also in other cities and in galleries. He has exhibited in the Den Haag Museum, Amsterdam's Stedelijk Museum and is part of the Amsterdam Historic Museum's permanent collection. He also collaborated with brands such as Denham and Tommy Hilfiger. His work is known for its bold statements about politics, popular culture and everyday life. In 2017 he was awarded the PAX Peace Prize for raising issues of global stability.
What is the Big X you are going to address in your talk and why should we be excited?
"My Big X is about the poetry of a city and how important it is for a city to have many voices heard. And why you should be excited? Well to me the exciting thing is that when cities have a living and breathing, active alternative creative core, then we can really influence culture and make cities what we want them to be. And it excites me that there is space for all of us in that."
What is the best idea worth sharing you came across the past 10 years?
"The idea of graffiti being a part of the city - being something that is accessible for all of us. I love that a part of graffiti branched off into street art and made it possible for artists and alternative voices to use the public space in a fresh and exciting way that has influenced the art, design, fashion and cultural landscape."