Zohra Moosa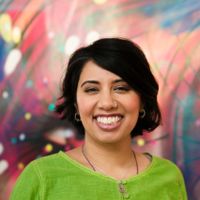 Zohra Moosa is a feminist activist and currently the Executive Director of Mama Cash, the oldest international women's fund in the world. Based in Amsterdam and operating globally, the smallish but bold fund supports social justice and human rights groups, organizations, networks and movements led by women, girls, and trans and intersex people by providing financial grants and other non-financial resources. The fund was started 35 years ago as a solidarity fund by a group of women in Amsterdam, and continues today to collect resources from where it can to channel back to courageous feminist activists all around the world.
What is the Big X you are going to address in your talk and why should we be excited?

"Every important change in the world has been the result of people working together to make them happen. Some of the most important social revolutions of all time are manifesting right now - and calling for help. Every day offers new doors through which to join one. I chose feminism. Which door is yours?"
What is the best idea worth sharing you came across the past 10 years?

"Some days, I find ideas worth sharing every ten minutes, and so find it impossible to choose just one from the last decade. I can't wait to hear all that are about to be shared."