Jan Dirk van den Burg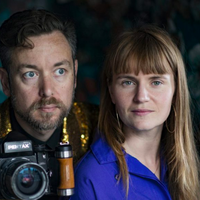 Amsterdam based Jan Dirk van der Burg is a photographer and filmmaker. He also creates books and is a Twitter biographer: compiling the best Twitter accounts in the Netherlands in autobiographical anthologies. Additionally he is the national authority on 'Olifantenpaadjes', the Dutch term for desire lines, the shortest route from A to B. Currently, he is working on a documentary and a book in which he tracks a plastic bag trend as a way to decode the complicated human relationships in society.
What does the Big X mean to you?
"I don't have a clue!"
What is the best idea worth sharing you came across the past 10 years?
"The idea of Arie Boomsma to brush my teeth sitting against the wall, so I could exercise my upper legs and bum at the same time!"