Orville Breeveld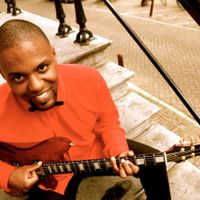 Orville Breeveld is a musician, singer, composer, orchestrator, producer and lecturer. He has worked in the field of international art, entertainment, media and advertising for over a decade. Orville has a long established career of working together with various international ensembles, musicians and entertainment corporations.
With his own event production company and talent development organisation Breathing, he has supported hundreds of young talented singers, bands and visual artists on international festivals and events. Besides composing and arranging for his own bands Orville composes music for TV, radio and other artists. He is a proud father and has a strong vision on fatherhood in various communities. He initiated the platform Vitamine V in the Netherlands to inspire other fathers and to contribute to a better upbringing of children through various actions and activities.
What does the Big X mean to you?
"When I, at a certain moment will leave this life, will I still be able to stay in touch with and protect my children and others whom I love?"
What is the best idea worth sharing you came across the past 10 years?
"Is not a new or revolutionary idea: We waste 40% of the food we produce. Still almost 800 million people in the world do not have enough food to lead a healthy life. Let's consume less and send the food to the hungry."