Beurt R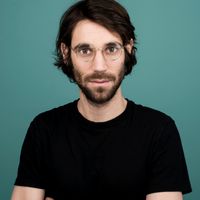 Bart Rijnink (aka Beurt R) is an actor, musician and composer. In 2007 he graduated from the Amsterdamse Toneelschool en Kleinkunstacademie (Academy of Theatre and Dance). From 2007 to 2011 he is part of theatre groep De Fantasten and performs at several festivals (Parade, Lowlands, Oerol) and theatres. For his performance in the play "Doe Maar de Musical" he is nominated for a Musical Award in 2007. Besides leading parts in several theatre productions he plays the male lead in the play "Het Pauperparadijs" in 2018. As composer he makes music for, for example the Dutch and Hungarian National Ballet and theatre groups such as Circus Treurdier. On tv he can regularly be seen in sketches (het Klokhuis) and various roles; in 2016 he was part of the regular cast of tv programme Kanniewaarzijn. In 2017 he jumped from a balcony in the movie "Het leven is Verrukkulluk" from Frans Weisz. Since 2015 Bart has a band called laGarçon*; making funky theatrical music with performances at Concert At Sea, Solar Weekend, Vondelpark Openluchttheater, De Parade and the main stage at De Uitmarkt Amsterdam.
What does The Big X mean to you?
"To me the Big X is where the past and the future meet. It's where you wanna be, or where you oughta be cause it's 'where it happens'. It's a treasure and a mystery. It's male and female. It's art and technology. And it's a kiss off course. X"
What is the best idea worth sharing you came across the past 10 years?
"It's actually 2 TED Talks: the first one is the boy called Boyab Slat doing a Ted-talk about ships that could clean all the plastic in the ocean. Wow. The second was a guy called Jon Jandai claiming "life is easy". 'Building a house is easy, I can build a house, you can build a house'. It made me as happy as a puppy dog listening to him."