Lucas de Man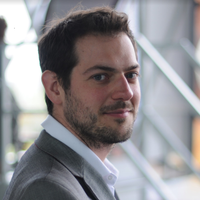 Lucas De Man, born in Belgium, graduated from the KU Leuven with a degree in Germanic Languages in 2004. He immediately applied to the Amsterdam University of the Arts to become a Theatre Director and won the Matthijs Prize, a young talent stipendium from Artemis and Young Talent Award from Theater aan Zee before graduating in 2008.
Lucas works as a (freelance) director, actor and concept developer and presents several art shows on Dutch national television. He often hosts large and small events in the Netherlands and Belgium, lectures and teaches. In 2011 Lucas and designer Pascal Leboucq were nominated for the renowned Wijnberg scenography award for their installation SKETCH. Lucas was awarded the honorary title city artist of Den Bosch from 2012-2016. In 2016 the performance, De Man in Europe was selected to open EUROPE BY PEOPLE, the cultural program of the Dutch presidency of the EU. It was shortlisted as Best Show of the 2015/2016 season by TheaterFestival in the Netherlands and Belgium. And Lucas himself was shortlisted as EuroDutchman of the year.
What does The Big X mean to you?
"When they asked me and my team of New Heroes to come up with the creative concept of TEDxAmsterdam 2018 I said yes because of the theme. The Big X, the Big Unknown. I am fascinated by what is happening in the world today and by how it is changing so fast. The pace of this change is making a lot of people afraid but at the same time it creates energy and possibilities. We have no idea what tomorrow will look like but we do know that we are creating it today. We all are. Not just the leaders or loudest people but all of us do. Therefore we chose to see the future as a puzzle of which we all are the pieces. The Big X is a puzzle that we form every day with all of us together."
What is the best idea worth sharing you came across the past 10 years?
"The best idea worth sharing is the insight that nobody knows! I mean, nobody knows why we are here on this planet, what the purpose is, what the Truth is. We don't know the Big answers to the Big Questions. It can drive you insane that you don't know. It makes people afraid and lost. But the moment you realise that nobody knows these answers, you can breathe, because it is what connects us as people. We all don't know, so we can work and play and love together. Not knowing makes us more equal than anything else. That is an insight worth spreading."