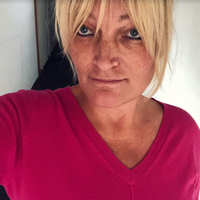 Annet de Graaf is a mother, entrepreneur and well known iPhone photographer. To her, the iPhone way of photography is pure. She can capture moments before they pass and never uses any other camera: "Amsterdam is hiding stories, like a miraculous book, I simply reveal the pages with my lens." Last summer she had the privilege to show Apple's Tim Cook her Amsterdam on a boat trip. The news became a worldwide buzz. For Annet it was an inspiration meeting with the man who makes her work possible.
What does The Big X mean to you?
"For me the Big X is finding a way to make public space more democratic for art & talent. Art can take over ads & billboards, when it is done in a smart way. I am fully committed to that development."
What is the best idea worth sharing you came across the past 10 years?
"The best idea ever? I don't believe in best ideas. Every idea leads to another. That's evolution. That's life."