Rosa Klamer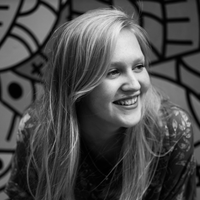 Rosa Klamer is an amateur filmmaker, a photographer and a creative. She works with Mart Media Monster and she is starting her own company. She is currently busy with several projects on storytelling. She is a ceremony master at Wed and Walk where she marries people for a day. She is also cofounder of the Instagram Account Wandelgangen that promotes politics among young people.
What does The Big X mean to you?
"If I am honest, I have never been to a TEDxAmsterdam conference. But I do remember in high school that the English teacher would show us TED talks. I always had the feeling when I went home that those were the days that I really learned something at school. Not mathematics, history or a language, but something that's happening now in the world."
What is the best idea worth sharing you came across the past 10 years?
"I remember the TEDx talk of Irene Rompa, about opening up to kindness. I can relate with her talk, especially when she said; 'If I would do it for the other person, I also dare to ask the other person to do it for me'. That's why I wanted her in my short movie for TEDxAmsterdam 10th anniversary."