Mario Klingemann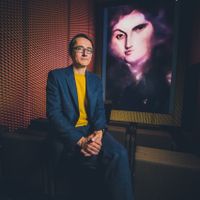 Mario Klingemann is an artist who uses algorithms and artificial intelligence to create and investigate systems. He is particularly interested in human perception of art and creativity, researching methods in which machines can augment or emulate these processes. He is artist in residence at the Google Arts & Culture Lab, winner of the Lumen Prize Gold 2018 and the British Library Labs Creative Award. His work has been featured in art publications as well as academic research and has been shown in international museums and at art festivals.
What does the Big X mean to you?
"For me X stands for the big unknown, the white spots on the map that are waiting to be explored and which pique my curiosity."
What is the best idea worth sharing you came across the past 10 years?
"The best idea of the past 10 years is the GAN, the generative adversarial network, which is basically a self-improving feedback loop that enables machines to learn how to make images and in turn, allows us to see things that are beyond our imagination."