Monique van Dusseldorp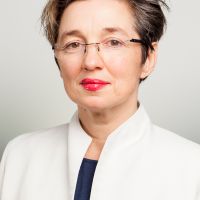 Monique van Dusseldorp is a curator of seminars and conferences on creativity, innovation, and technology. Monique has been the program director of TEDxAmsterdam since its beginning, and is also on the board of the TEDxAmsterdam Foundation. She studied fine arts and literature in Tilburg and Boston, and worked for many years in Germany at the European institute for the Media before establishing her own company. Over the last twenty years, she initiated and organised a series of internationally renowned events. She was the Program Director of cross media festival PICNIC, helped launch the first Wired Event in London and is the international program director for the Next Conference in Hamburg since 2010. She currently curates the Blockchain Innovation Conference, the Cross Media Café, the Tweakers Developers Summit and the State of the Region event. She is also co-founder of ThingsCon Amsterdam, a network for IoT designers, entrepreneurs and thinkers.
What does the Big X mean to you?
"The great unknown, the things that keep us awake at night, both on a global and on a very local and personal level."
What is the best idea worth sharing you came across the past 10 years?
"Ten years of curating TEDxAmsterdam, of selecting and working with speakers with an idea worth spreading, have made me realise how different people really are, and how wonderful this is. If you listen to a nano technology professor, an activist who tries to figure out how to get everyone to improve the world, or an artist who just changes the whole perspective, you cannot but admire the sheer bravery and dedication these people bring to their work. It makes you aware how different their minds work – but they all have the same goal. They want to change something in our world and how we perceive this. And they are willing to be completely vulnerable on a stage and tell that story. The speakers are my heroes."