Marc de Hond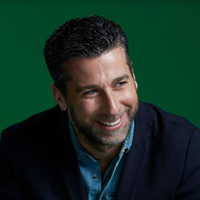 Marc de Hond is a former radio-dj, internet entrepreneur, poker commentator, film maker and wheelchair basketball international. In 2012 he gave a talk at TEDxAmsterdam about "The Power of Adaptation". He shared how he ended up in a wheelchair and, how, in his rehabilitation process, he identified the amazing power for both body and mind to adapt to new circumstances. Since then he has inspired people to make better use of this power. Currently he works as a writer, tv-host and sports commentator. In October 2018 he premiered his third full-length theatre show "Voortschrijdend Inzicht" ("Progressive Insight") – a show about adapting to new circumstances.
What does The Big X mean to you?
"I was always afraid to perform on stage. Until TEDxAmsterdam came along and invited me to share my story. They coached me, taught me how to craft my talk, they helped me overcome my stage fright. It changed my life… ever since I have been touring the country giving performances and hopefully inspiring or entertaining people with my stories."
What is the best idea worth sharing you came across the past 10 years?
"Yesterday I heard a talk of two doctors that explained that 20,000 people in the Netherlands die each year due to smoking. That is more than six times the casualties of 9/11… each year! They aggressively spoke about how smoking should be eradicated from our country and I completely agree. Furthermore, living in a country that is more than half submerged under sea-level we should do more to fight climate change. We actually should do everything to reduce CO2… even if that means using nuclear energy if we can't invent something better."