Raphael Rodan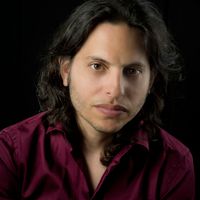 Raphael Rodan is an Israeli award winning theatre maker and storyteller. He graduated in 2008 from the School of Speech and Drama in Harduf, Israel. He continued his acting training at the Actors Temple in London, and also worked in Israel as a theatre director for Arab and Jewish young actors, using theatre as a bridge for communication. Since his move to Europe, he runs storytelling workshops and performs all over the continent. Together with Sahand Sahebdivani, he has established the "Mezrab Storytelling School". A school that is striving to link the ancient art of storytelling with today's burning questions.
What does the Big X mean to you?
"In two words: "Personal Growth""
What is the best idea worth sharing you came across the past 10 years?
"The creation of the "Mezrab", a house for stories and culture in the East of Amsterdam. The centre started at the living room of its creator Sahand Sahebdivani. Sahand (originally from Iran) was telling stories to his guests while his mother was spoiling them with her wonderful Iranian soup. Today it has grown to be one of the most striving cultural centres in Amsterdam. Locals, expats, and refugees alike gather and listen to stories together, creating a real hub, encouraging a multicultural meeting."