Mandy Smith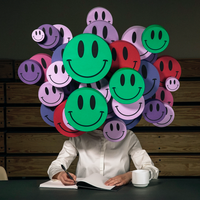 AJ Smith is a "surface-twister" who shows how personal perceptions interplay with social space. She explores how art can be used as a communication tool for social good. With a background in both film and architecturally engendered paper sculptures, Central Saint Martins graduate Smith is a multi-award winning creative who has exhibited at some of the largest museums in the Netherlands. Her initiative to raise awareness about Female Genital Mutilation, titled 'No More Cutting', led her to be Elle Magazine's runner up for Female Activist of the year. "The surface shows not just what is in front of us, but what lies underneath. Change it and re-shape it, and an interface is offered for us to re-interpret and re-imagine the world."
What does the Big X mean to you?
"In a world where we are encouraged to promote our "perfect lifestyle" on social media it's no wonder why many people can feel like they're failing, that they're not good enough and that they're not pushing hard enough. Very rarely do people talk about their struggles and this constant pressure to succeed until it becomes too late. So let's start talking about it and use art to do so!"
What is the best idea worth sharing you came across the past 10 years?
"The first ever Solar Road opened in the Netherlands. But I remember being inspired by a video about an American Engineering couple, Scott and Julie Brusaw, and their company Solar Roadways. Theirs is a growing business and they're advancing with testing, but I was empowered by 2 people trying to make a difference and I really hope they can realise their idea on the world's highways! "If all the roads in the US were converted to solar roadways", the Solar Roadways website claims, "the country would generate three times as much energy as it currently uses and cut greenhouse gases by 75 percent.""
Past TEDxAmsterdam talk: